FESTIVAL 2015
Traveling national community cultural activation GLOBAL LOCAL produces its first event in Staten Island for La Isla Bonita on July, 12, 2015 with artist Lina Montoya, ISLA and G.E.D.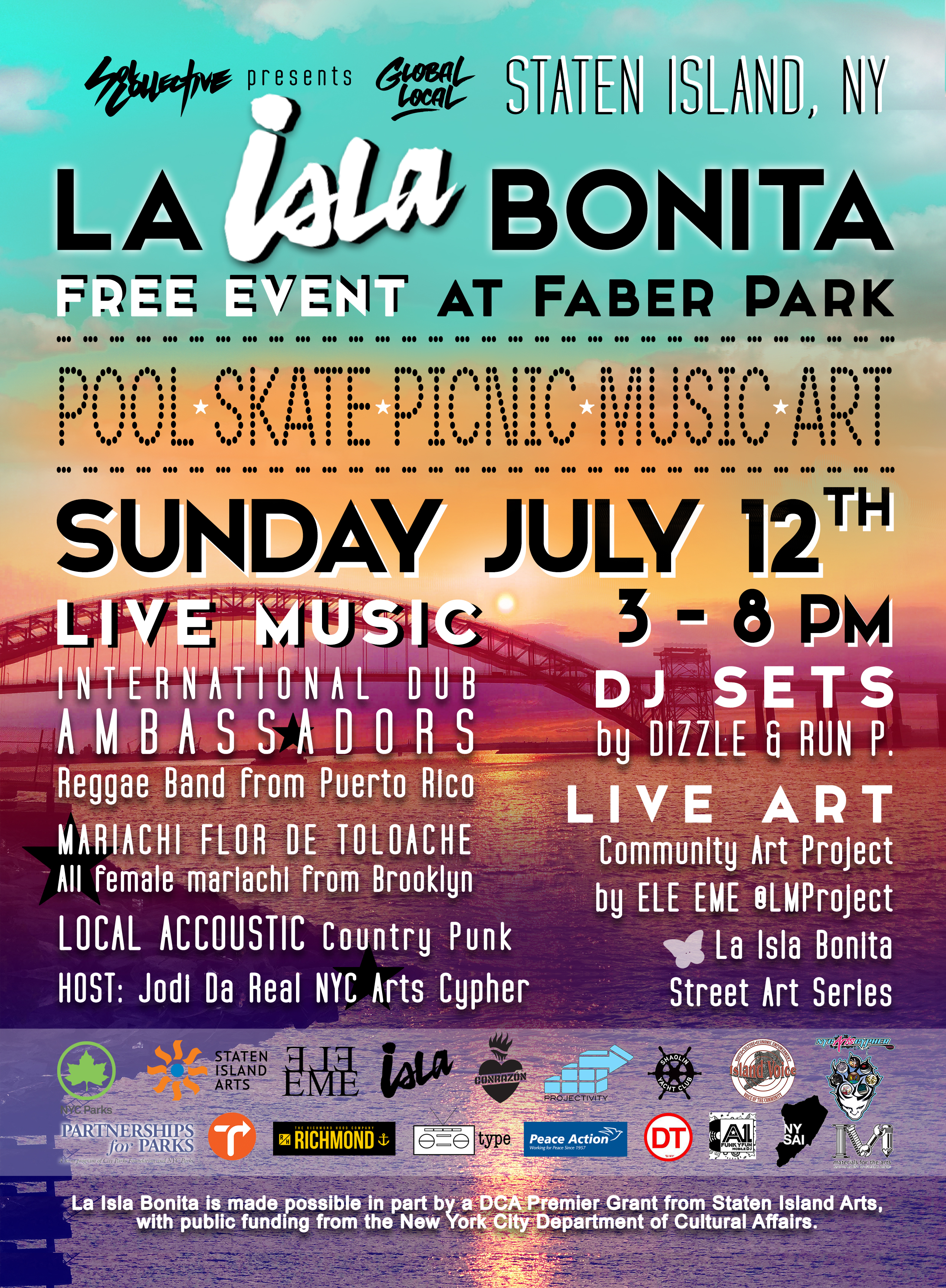 "La Isla Bonita" includes live music from distinguished international bands, live art and other activities.
When: Sunday July 12, from 3 to 8 p.m.
Where: Faber Park, Richmond Terrace & Faber Street in Port Richmond.
Cost: Admission is free.
Bring: Picnic supplies, skateboards, friends, swim suits.
Music: All-female mariachi band Mariachi Flor de Toloache; reggae dub band International Dub Ambassadors and riot grrrl country band Dolltits.
We want to celebrate the beauty that is here, in ourselves, our friendships and our community relationships," said Natalia Linares, the co-founder of ISLA with Gia Dupree and Dizzle the DJ. "The ultimate goal for all of us is to create something that reflects us." The group organized several previous parties on Staten Island meant to bring world cultures here and establish the borough's North Shore as more of a party scene. Picnicking is encouraged on the Port Richmond waterfront bordering Faber Park, which provides easy access to the public pool and skate park.
MAKING 'BONITA' MUSIC
First on the list is Mariachi Flor de Toloache, an all-female mariachi band. Founded in NYC in 2008, the traditional mariachi band not only appeals to music lovers but the strong Mexican community in Port Richmond, Linares said.
The group recently collaborated with Black Keys' frontman Dan Auerbach on his most recent musical group The Arcs, and is set to release an album Sept. 4. Also performing is Puerto Rico's International Dub Ambassadors. The group's synth-heavy "intergalactic dub" reggae explores the roots of the genre with heavy basslines and psychedelic vibes. The Ambassadors can call themselves such -- having just performed with the "Godfather of dub," Augustus Pablo, Linares said. And Dolltits, Staten Island's latest musical output, will perform original works, which range from good ol' acoustic country to rock of the Riot Grrrl variety. Throughout the day, S.I. natives Dizzle the DJ and DJ Run P. will pump up the jams.
VISUALS & PERFORMANCE ART
Montoya, co-creator of the event, has made it her mission to beautify Port Richmond, through a series of murals and the party itself. She was the artist behind the neighborhood's butterfly fence art, as well as the installment at the New World Preparatory Charter School.
Montoya will be wrapping up her latest community art project, "Yellow Butterflies, Sirens and Guitars" at Faber Park during La Isla Bonita, with the help of kids in the area. "Everything is coming together and many people are collaborating because of the arts -- it's a romantic idea, but it's really happening," Montoya said.
Here are some of the other art happenings that will be going on throughout the day:
Art Cypher's Jodi Da Real will host. The cypher's dancers will also give a demonstration
Projectivity
Photographer Mike Shane and Deep Tanks (Christopher Jhonson)
The clothing company
NYSAI Press
The "ISLA Bonita" shindig is supported by New York City Department of Parks & Recreation, Staten Island Arts and Sol Collective.
PRESS
LIB